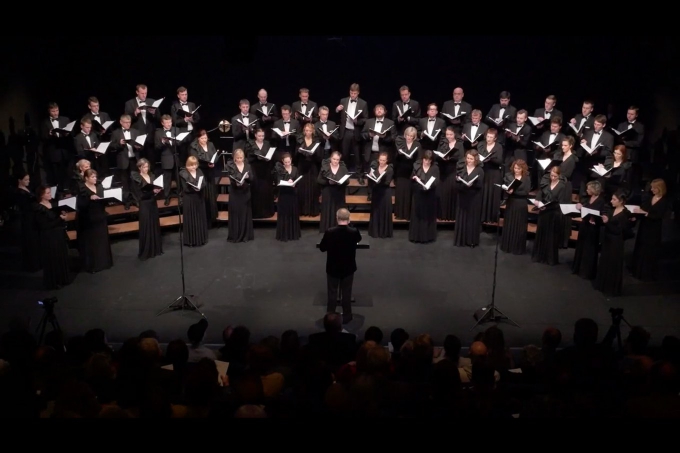 The Baryshnikov Arts Center (BAC) in NYC has included the Latvian National Choir (State Choir Latvija) concert, which was filmed at the Jerome Robbins Theater on 11 April 2015, in its weekly PlayBAC video series programme. Between 9 April and 19 May PlayBAC features performance from its 15-year archive of live performances filmed in BAC's Jerome Robbins Theater and Howard Gilman Performance Space. The State Choir Latvija performance will be available from 16–21 April. The programme includes Ēriks' work Northern Lights alongside works by other composers from the Baltic region as well as Eric Whitacre.
Latvian National Choir
State Choir Latvija and Māris Sirmais, conductor
11 April 2015
Jerome Robbins Theater, Baryshnikov Arts Center, NYC
Vytautas Miskinis: O salutaris hostia
Eric Whitacre: Lux aurumque
Arvo Pärt: The Deer's Cry
Arvo Pärt: Which was the Son of
Vaclovas Augustinas: Cantata domino
Uģis Prauliņš: Veni sancte spiritus
Jēkabs Jančevskis: Odplyw (US Premiere)
Gundega Šmite: Song of Stone (US Premiere)
Raimonds Tiguls: Nyari gianta (US Premiere)
Ēriks Ešenvalds: Northern Lights
Veljo Tormis: Ingrian Evenings
The Baryshnikov Arts Center (BAC) is a foundation and arts complex opened in 2005 by the Riga-born Russian-American dancer, choreographer, and actor Mikhail Baryshnikov, who was granted Latvian citizenship based on special merit by parliament vote in 2017.