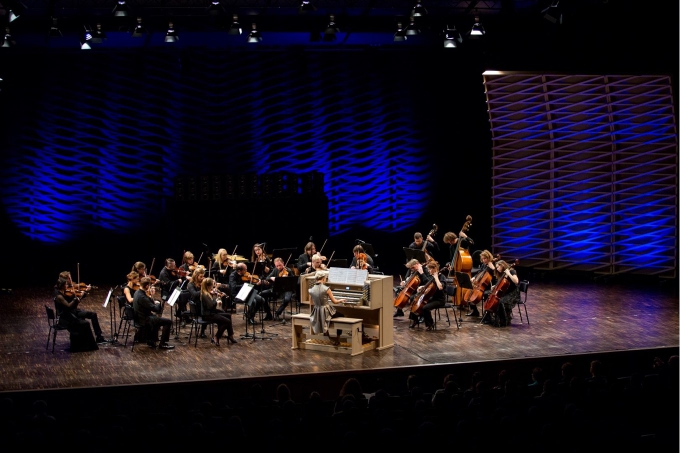 Eriks' concerto for organ and string orchestra Voice of the Ocean will be performed by Kremerata Baltica and Iveta Apkalna at the Kremerata Baltica Festival 2019 on 7 September.
Held in the coastal town of Jūrmala outside Riga, Latvia, this year's edition of the festival presents a three-day programme with on the second night Bach and the Baltics featuring Bach's Chaconne arranged by Gidon Kremer, the premiere of Andris Dzenītis' Leaves leaving Leipzig for violin and string orchestra, Marģeris Zariņš' Concerto Inocente and Eriks' Voice of the Ocean. The acclaimed Baltic chamber orchestra Kremerata Baltica, its founder violin virtuoso Gidon Kremer and soloist Andrei Pushkarev on vibraphone will be joined on stage by leading organist Iveta Apkalna, currently serving as titular organist of the Klais organ at the Elbphilharmonie in Hamburg, and Fuad Ibrahimov, conductor of the State Symphony Orchestra of Azerbaijan and principal conductor of the New Philharmonic Orchestra of Munich and the Baku Chamber Orchestra.
Written for and premiered by Apkalna in 2014, Voice of the Ocean was Ēriks' first work performed by Kremerata Baltica when it was included in the programme of their Bach and the Baltics tour with Apkalna in Germany, Austria and Latvia in November 2018. Bachtrack's Alexander Hall on the tour concert at the Elbphilharmonie in Hamburg: 'Only in the final work, a concerto for organ, strings and percussion, entitled Okeāna balss (Voice of the Ocean) ... was Apkalna, its dedicatee, able to unleash the full power of the 5000-pipe Elbphilharmonie organ. Seated at the four-manual digital instrument, in the space normally occupied by the conductor's rostrum, she delivered a ringing opening statement that sounded suspiciously like the celebrated Toccata and Fugue in D minor "gone wrong". Cast in a traditional set of three movements, the material includes big dramatic statements, the organ rumbling and groaning like a gigantic whale moving up from the oceanic depths towards the surface, but also music of the stars, a sense of cosmic complexity suggested in the organ's highest register and in the contributions of the dazzling solo first violin both in the slow movement and in the finale. Bach was nowhere near a million miles away.'
Kremerata Baltica and Iveta Apkalna will perform Voice of the Ocean at the Konzerthaus Berlin on Sunday 20 October.
Photo: Andrejs Vasjukevičs / GORS