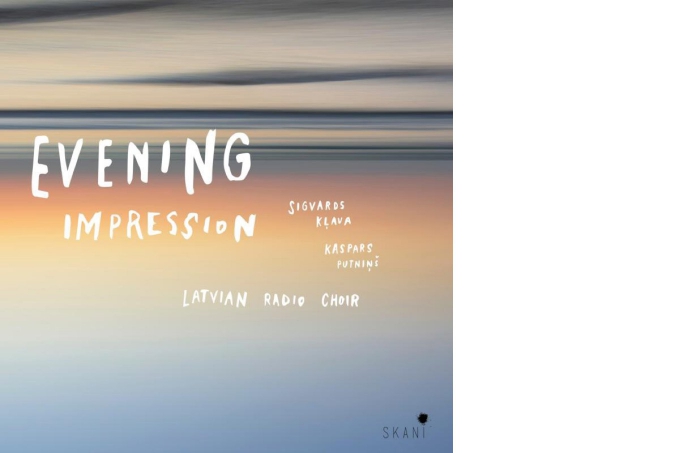 The Latvian Radio has released their new album Evening Impression on SKANI featuring world premiere recordings of new choral works by Latvian composers Vasks, Ešenvalds, Karlsons, Selickis, Einfelde, Nīmanis, Maskats, and Viļums. The album includes the premiere recordings of Ēriks' recent works He Wishes for the Cloths of Heaven and Мысли мои or My Thoughts.
Composed for mixed choir, He Wishes for the Cloths of Heaven (2017) is a setting of a text by Irish poet William Butler Yeats (1865–1939). Scored for choir and percussion, Мысли мои or My Thoughts is a setting of a text by Eastern Orthodox monk and poet St Silouan the Athonite (1866–1938) and was composed for the Latvian Radio Choir on the occasion of their Lent-themed concert programme The Divine Quiet in St John's Lutheran Church, Riga on 15 March 2019. My Thoughts had its US premiere with the Portland State Chamber Choir and Ethan Sperry in St Philip Neri Catholic Church in Portland, OR on 17 May 2019.
Led by musical director and principal conductor Sigvards Kļava and conductor Kaspars Putniņš, the Latvian Radio Choir ranks among the top professional chamber choirs. It has recorded the Grammy Award-winning album Adam's Lament by Arvo Pärt with conductor Tõnu Kaljuste on ECM as well as award-winning albums on the Ondine label including Rachmaninov: All-Night Vigil, Tchaikovsky: Liturgy of St John Chrysostom & Nine Sacred Choruses, Silvestrov: To Thee We Sing, and Ešenvalds: St Luke Passion & Sacred Works.
Evening Impression is available on Amazon, Presto, Spotify, and Apple Music.