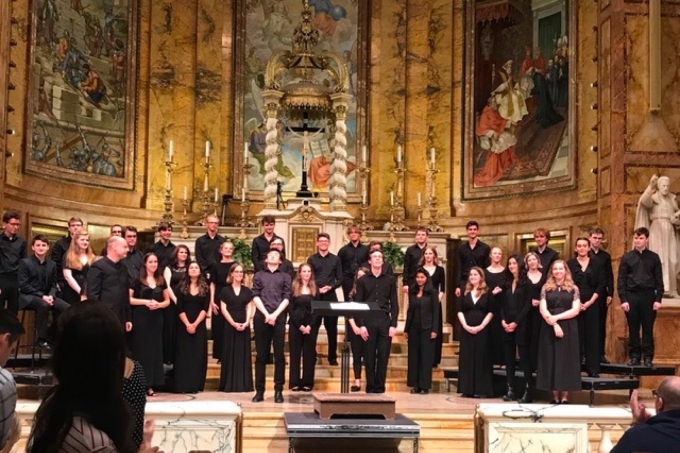 The Choir of Trinity College Cambridge and Stephen Layton are in the US for their annual international tour. During September the choir performs concerts in New Haven, Madison, Atlanta, New York, Cleveland, Pittsburgh, Dallas, Houston, and Porter. Ēriks' work The Heavens' Flock is included in the tour programme, alongside works by Byrd, Howells, Kalinnikov, Lauridsen, Mäntyjärvi, Parsons, Purcell, Tallis, Tavener, and others.
ART ATL wrote about the performance at Atlanta's Cathedral of St Philip: 'It's a setting of the beautiful poem by Paulann Peterson, where a humble shepherd is singing of the stars above, building his own bonfire, yearning to make a connection … to nature, to God or, achingly, to himself. Ešenvalds' scene painting is dazzling, as when the choir sings "and lichen crusting such dead limbs glows silver, glows white" and the high sopranos sing a halo around the words, glowing silver, glowing white. We hear the presence of the shepherd's humanity, and of the divine.'
Commissioned by the Portland State Chamber Choir and Ethan Sperry in 2014, The Heavens' Flock is a setting of words by Paulann Petersen (1942), Oregon's sixth Poet Laureate (2010–14). It was recorded by Trinity College Choir on their all-Ešenvalds album Northern Lights (2015) and by Portland State Chamber Choir on Into Unknown Worlds (2014).
Watch Trinity College Choir's full concert in the Church of St Ignatius Loyola in New York, NY on 15 September 2019 (including The Heavens' Flock at 1 hr 2 min) and the The Heavens' Flock recorded live in concert in Heilig-Kreuz-Münster, Schwäbisch Gmünd, Germany on 19 July 2018: