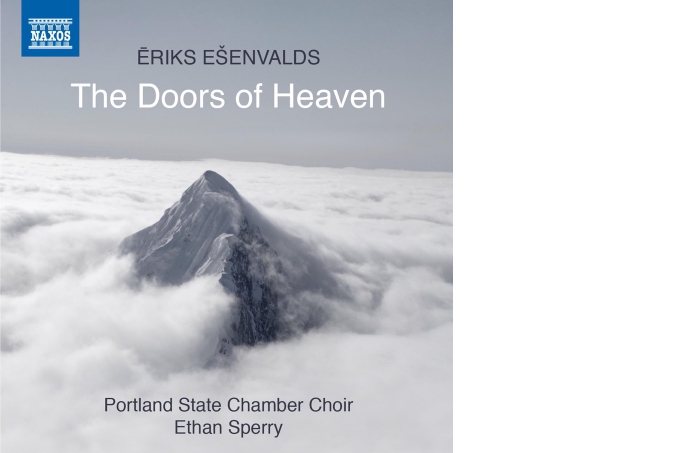 "Ešenvalds' colorful, dramatic and multi-voiced works on the album reveal skillfully set narrative texts ranging from folk material to liturgical. An important new recording of works by a rising star in choral composition and a top-notch chorus and I am pleased to recommend it enthusiastically."
— Morten Lauridsen
On August 11, Portland State Chamber Choir released The Doors of Heaven on Naxos. After debuting at #1 on Apple's and Amazon's classical charts, the album debuted at #1 on Billboard's Traditional Classical Chart — making PSU Chamber Choir the first university choir ever to chart on the list.
The album features four of Ēriks' longer narrative works — about nature, religious faith and legend. The First Tears (2015) is based on the Inuit legend of the Raven and the Whale, a story of how grief came into the world. Rivers of Light (2014) is about the natural phenomena of Northern Lights and combines a Sámi folk song with passages from the journals of Arctic explorers Fridtjof Nansen and Charles Francis Hall. A Drop in the Ocean (2006) commemorates the life Mother Teresa of Calcutta. Passion and Resurrection (2006) is an exploration of Christ's death and resurrection constructed from a variety of liturgical sources.
Led by Ethan Sperry, Portland State Chamber Choir has recorded the music of Margaret Garwood, Veljo Tormis and Morten Lauridsen. Their album A Drop in the Ocean was a finalist for the 2012 American Prize in Choral Music and the 2014 release Into Unknown Worlds was named a "record to die for" by Stereophile. The Doors of Heaven was recorded in January and May 2016 at St Stephen's Catholic Church in Portland, Oregon.
"Ešenvalds' ability to write this music is a rare gift, one that allows us to view centuries-old human stories from a new perspective: in his music, indeed, the doors of Heaven are opened in all their beauty and complexity."
— Ethan Sperry
The album can be ordered on Amazon.com and iTunes. Studio quality digital downloads are available on HDTracks.com, Qobuz and eClassical.
Cover image © Dainis Juraga (archive Ēriks Ešenvalds) / Naxos