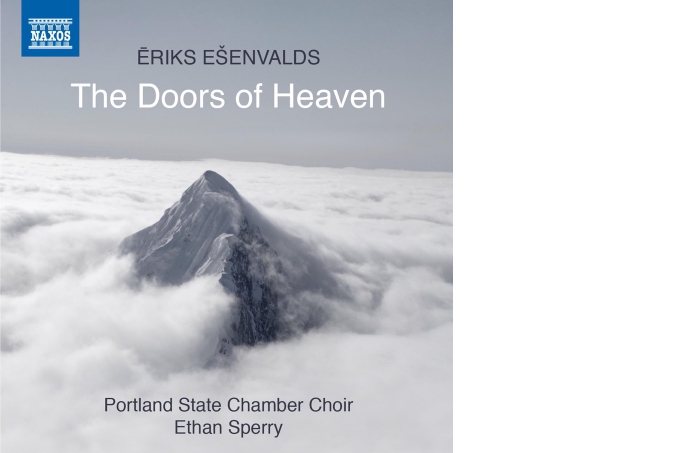 On August 11, Portland State Chamber Choir releases The Doors of Heaven on Naxos, the first recording by an American chorus that is exclusively devoted to Ēriks' music. The album features four of his longer narrative works: The First Tears (2015), Rivers of Light (2014), A Drop in the Ocean (2006) and Passion and Resurrection (2006).
"Ešenvalds' ability to write this music is a rare gift, one that allows us to view centuries-old human stories from a new perspective: in his music, indeed, the doors of Heaven are opened in all their beauty and complexity."
— Ethan Sperry, PSU Chamber Choir conductor
"Ešenvalds' colorful, dramatic and multi-voiced works on the album reveal skillfully set narrative texts ranging from folk material to liturgical. Many of these compositions call for solo voices and the Chamber Choir is up to the task with a variety of excellent soloists. The choir and supporting instrumentalists are outstanding, performing under the baton of Maestro Sperry, an ideal interpreter of Ešenvalds' music. The Doors of Heaven is an important new recording of works by a rising star in choral composition and a top-notch chorus and I am pleased to recommend it enthusiastically."
— Morten Lauridsen, composer, National Medal of Arts recipient and Honorary Artistic President of Interkultur / World Choir Games
The Doors of Heaven was recorded in January and May 2016 at St Stephen's Catholic Church in Portland, Oregon and is produced by Erick Lichte and engineered by John Atkinson and Doug Toutelot.
The album can be pre-ordered on Amazon.com.
Cover image © Dainis Juraga (archive Ēriks Ešenvalds) / Naxos