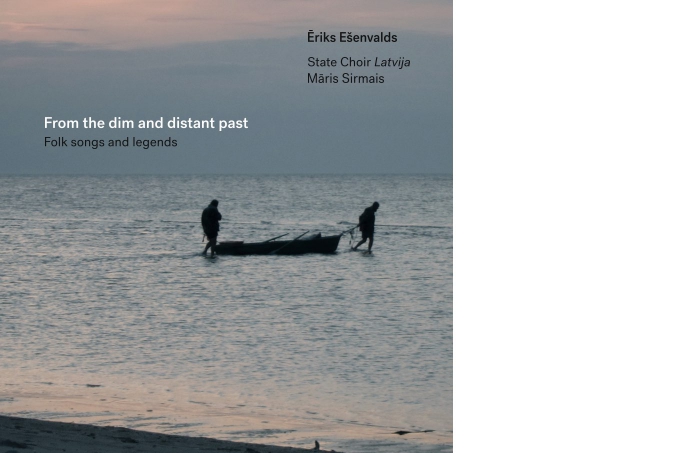 "Latvia has given the world an extraordinary wealth of choral music. Alongside Māris Sirmais and the State Choir Latvija, Ešenvalds' compositions transcend the bounds of the choral genre, creating startlingly fresh musical landscapes."
— Stephen Layton, Director of Music of The Choir of Trinity College, Cambridge, and Conductor of Polyphony
On December 1, State Choir Latvija releases From the dim and distant past, a new recording exclusively devoted to the work of fellow countryman and former choir member Ēriks Ešenvalds. The disc celebrates the 75th anniversary of the largest professional choir in the Baltics, as well as the 40th birthday of the composer. Directed by Māris Sirmais, this recording features ten choral works reflecting Ešenvalds' deep connection with folk music, ancient legend, and the natural world.
The programme includes two arrangements of folk songs from the British Isles, the Irish O Danny Boy and Scottish My Luve is Like a Red, Red Rose. Combining Latvian folk texts, Ainava ar ganiem (Landscape with Herdsmen) describes emotions and experiences of herdsmen, and Aizej, lietiņ (Go Away, Rain) makes a plea for the rain to stay away from Midsummer celebrations. Ancient Prairie sets a famous Chinese poem from the ninth century that depicts expansive grass landscapes. Written in 1918, in response to the horrors of the First World War, There Will Come Soft Rains is a setting of Sara Teasdale's iconic poem describing the reaction of nature to the end of humanity, brought about by catastrophic war.
Northern Lights and Rivers of Light capture the natural phenomena of the aurora borealis, combining Latvian and Sámi folk songs with various writings on the Northern Lights, including passages from the journals of Arctic explorers Fridtjof Nansen and Charles Francis Hall. The longest work on the album is The First Tears, an Inuit legend retelling by the composer about the Raven and the Whale — a story of how grief came into the world. The programme closes with Rasa (Dew), a setting of a poem examining the young writer's given name and a contemporary reflection on Latvia's treasured folk poetry.
From the dim and distant past was recorded in September and October in St John's Lutheran Church in Riga. The album is available on iTunes and Amazon.com.