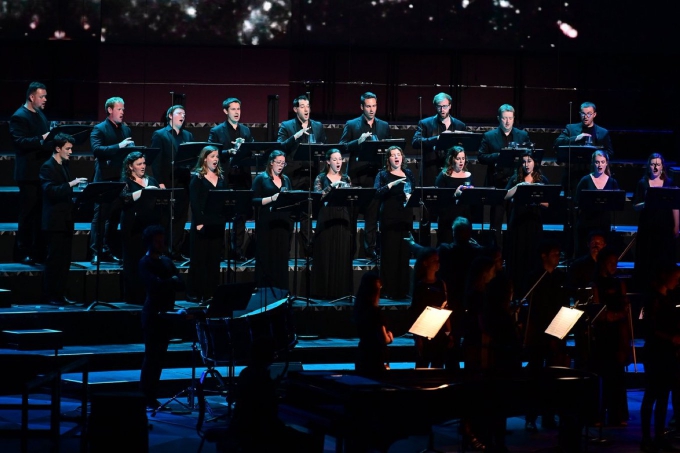 This year's BBC Proms featured a performance of Stars at Prom 36: Late-Night Mixtape. The night at the Royal Albert Hall explored 'the fringes of Minimalism and meditative listening' with choral sounds and strings from Tenebrae, 12 Ensemble, Martin James Bartlett (piano), Soumik Datta (sarod), and Cormac Byrne (bodhran). Presented by BBC Radio 3's Andrew McGregor, the eclectic mix of classical and contemporary music included pieces by Soumik Datta, Ola Gjeilo, Max Richter, Pēteris Vasks, Arvo Pärt as well as Bach, Chopin, Lobo, Schubert, and Tavener. MusicOMH's Barry Creasy writes: 'The vocal ensemble Tenebrae under their director Nigel Short were their usual slick selves, and produced a beautifully blended and tightly controlled sound for their solo items. Ēriks Ešenvalds' ethereal Stars sets a soprano melody against scrunchy choral underpinning and a drone from a choir-played glass harmonica to great effect.'
Late July Latvian mixed choir Maska conducted by Jānis Ozols performed Stars during their winning Grand Prix programme at the 2nd Tokyo International Choir Competition.
Stars, a setting of words by Sara Teasdale (1884–1933), is amongst Ēriks' most performed and recorded works. It was originally commissioned and composed for mixed choir by the Salt Lake Vocal Artists / Salt Lake Choral Artists and Brady Allred in 2011. In 2014 Michaelhouse Chapel Choir and William Silk from South Africa and Regalo Tokyo, Japan commissioned the work for male choir and female choir respectively.
Photo: BBC Proms