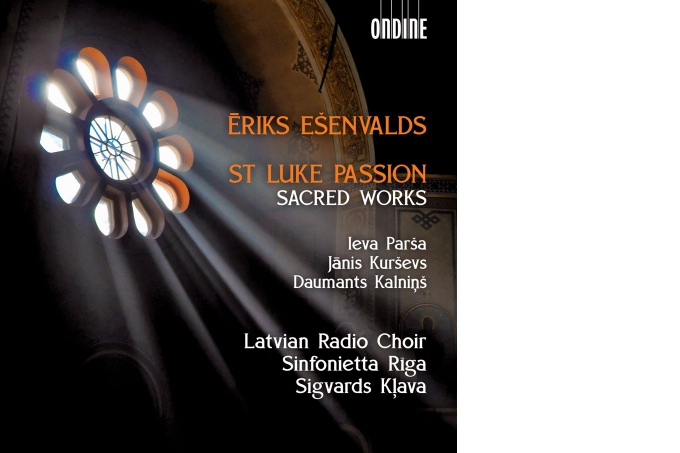 St Luke Passion / Scared Works, by the Latvian Radio Choir, Sinfonietta Riga and Sigvards Klava, continues to receive excellent reviews.
It was Editor's Choice in Gramophone Magazine's August edition. "It's an unusual and highly effective beginning, and I can say that it is unlike any other setting of the Passion with which I am familiar... One could hardly ask for better performers in this repertoire... A superb release." (Ivan Moody)
The disc received a five star review in the September/October issue of Choir & Organ. "This is an exceptional recording of exceptional music. Latvian composer Eriks Esenvalds is steadily building a considerable reputation for himself… A CD not to be missed." (Philip Reed)
It was Critic's Choice in the December edition of Opera News. "The Latvian Radio Choir and the Sinfonietta Riga, performing impeccably under Klava, are perfectly suited to Ešenvalds's distinctly personal vision of the divine." (Joshua Rosenblum)
MusicWeb International wrote "It confirms Ēriks Ešenvalds as a leading light in contemporary choral music. His compositions are tremendously imaginative and effective... The singing throughout is exemplary, as is the playing of Sinfonietta Riga. Sigvards Kļava and the Ondine engineers deserve our admiration and our thanks for presenting this music with such clarity..." (John Quinn)
The American Record Guide writes "The performances and sonics are exemplary" (Stephen Estep) and David Denton writes in early review on Naxos.com "The Latvian performances carrying deep conviction, while the sound quality is really top class. Fervently recommended.".
St Luke Passion / Scared Works was released earlier this year on Ondine. In addition to the 30-minute title piece it features A Drop in the Ocean, The First Tears and Litany of the Heavens.