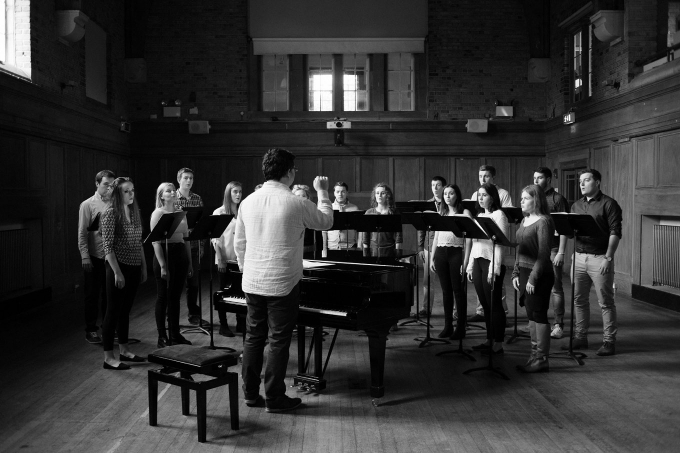 On 15 March Ēriks' new work Мысли мои or My Thoughts, scored for choir and percussion and setting a text by Russian-born Eastern Orthodox monk and poet St Silouan the Athonite (1866–1938), was premiered by the Latvian Radio Choir and conductor Sigvard Kļava at their Lent-themed concert The Divine Quiet in St John's Lutheran Church, Riga. Bachtrack's David Karlin writes: 'The most thrilling piece of the concert was Ēriks Ešenvalds' My Thoughts. Here was music in which each breaking wave grew ever stronger and each intervening moment of calm gave ever more necessary respite. When you thought that Ešenvalds had thrown in everything he had, the composer proved you wrong: the final climax knocked you sideways.' My Thoughts, along with Vineta (2009), will have its US premiere on 17 May with the Portland State Chamber Choir and Ethan Sperry at St Philip Neri Catholic Church in Portland, OR.
Two new works were premiered in Ireland and Northern Ireland. Where is Heaven?, a setting of a poem by Bengali polymath and Nobel laureate Rabindranath Tagore (1861–1941), was commissioned by the award-winning Chapel Choir of Methodist College Belfast led by Ruth McCartney to celebrate the school's 150th anniversary and premiered at the gala concert in Belfast's Waterfront Hall on 14 March.
On 25 April the Choral Scholars of University College Dublin, with Martin Johnson on violoncello and Desmond Earley conducting, premiered My Love is in a Light Attire at the choir's 20th anniversary concert in the National Concert Hall in Dublin. Written especially for the occasion, the work is set on poetry by Irish writer and poet James Joyce (1882–1941). In the programme notes, Earley writes: 'Ešenvalds often divides his choir into multiple parts allowing for deliciously rich textures that almost overwhelm the audience. In setting poem VII from Chamber Music he chooses a less complex approach which allows him to reflect the innocence of the imagery presented by Joyce: "My love goes slowly, bending to / Her shadow on the grass." The result is essentially a love-song filled with nostalgic longing.'
I Traveled the Old Road, set on a poem by Rabindranath Tagore (1861–1941), will be premiered at Drake University in Des Moines, IA on 5 May. The work was commissioned to celebrate Dr Aimee Beckmann-Collier's thirty years at Drake, where she is the Director of Choral Studies and the Levitt Distinguished Professor of Conducting. The Create/Re-create Choir Concert, Ms Beckmann-Collier's final concert before her retirement, will feature Drake Choir, Chamber Choir, Drake University / Community Chorus, and Drake Chorale with Linda Vanderpool, conductor, as well as alumni of the Drake Choir. The programme includes the premieres of three other commissioned pieces by Jocelyn Hagen, Elaine Hagenberg, and John Armstrong.
Photo: The Choral Scholars of UCD with Desmond Earley