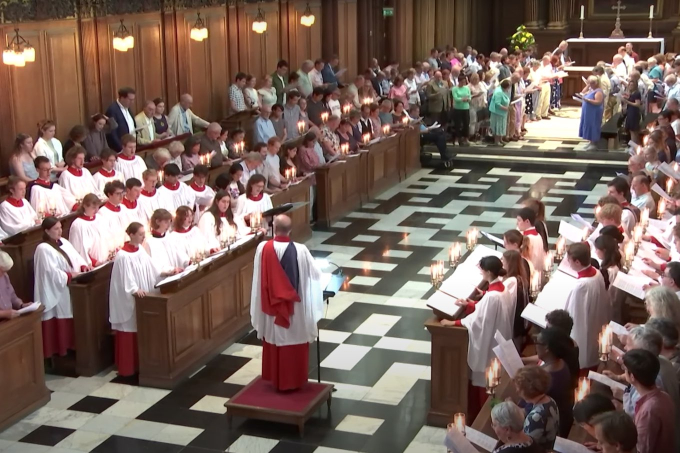 Ēriks' Salutation was performed during Choral Evensong on Sunday 11 June in the Chapel of Trinity College Cambridge, the final service of Trinity College Cambridge's Director of Music Stephen Layton.
Dr Stephen Layton MBE announced his departure from Trinity College Cambridge on 9 March. After 17 years as Fellow and Director of Music he is to pursue his international guest-conducting career. His last concerts with The Choir of Trinity College Cambridge will be during their summer tour in Germany. Under Layton, the student choir has become one of the best choirs performing and recording today.
Layton: 'It has been a joy and an exceptional privilege to work with The Choir of Trinity College Cambridge for so many years. I am extremely proud of what we have achieved together. Beyond the services, discography, technological advances and touring successes, it is the students who form the major part of my legacy: those members of this extraordinarily gifted group who changed the nature of a 'college choir' into a leading artistic professional beacon on the world stage. I warmly wish them rich success for the future and I know that they will go from strength to strength.'
Ēriks has closely collaborated with The Choir of Trinity College Cambridge under Layton. During his two years as Fellow Commoner in the Creative Arts at Trinity College Cambridge, Ēriks composed, among other works, Trinity Te Deum, which was commissioned for the installation of Sir Gregory Winter as Master of Trinity College Cambridge in October 2012. In 2014, Ēriks was present for the recording sessions of the Gramophone Awards shortlisted Ešenvalds: Northern Lights & other choral works by Trinity and Layton on Hyperion. The recording includes Trinity Te Deum as well as Psalm 67, which received its UK premiere with Trinity and Layton in November 2012, and Who can sail without the wind?, the full choir English-language version for Trinity and Layton of Ēriks' arrangement of the Swedish song Vem kan segla förutan vind?.
Salutation, composed for a cappella choir to a poem by Bengali poet and musician Rabindranath Tagore (1861–1941), was premiered by the National Youth Choir of Great Britain and Stephen Layton in the Chapel of Trinity College Cambridge on 25 August 2017.