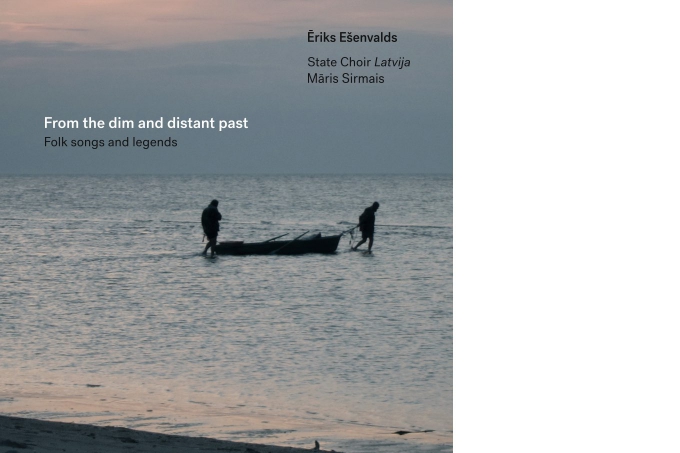 Released last December, From the dim and distant past is the latest all-Ešenvalds album and features ten choral works reflecting the composer's deep connection with folk music, ancient legend, and the natural world. Directed by Māris Sirmais, this recording celebrates the 75th anniversary of State Choir Latvija, the largest professional choir in the Baltics. The disc receives positive media reactions, both internationally and locally:
'Somewhere between ethnomusicology, 'world music' and the French concept of folklore imaginair lies this record. The music on it comes from all over the place — My Love is Like a Red, Red Rose, Danny Boy, Sami folk songs, Sara Teasdale's The Will Come Soft Rains — but Ešenvalds make it cohere beautifully. In structure and tone, it is somewhat similar to Luciano Berio's Folk Songs. The composer ensures that the 'folk' elements aren't too quaint and Māris Sirmais delivers a strong and flexible line which the singers follow with almost improvisational ease. A beautifully conceived programme, performed with relaxed grace.'
— Choir & Organ (Brian Morton)
'The singing of State Choir Latvija is mightily impressive throughout this disc. Clearly, they've been superbly trained by Māris Sirmais, their Artistic Director and conductor since 1997. Not only is Sirmais' great ability as a choral trainer evident at every turn, so too is his empathy with the music. Ēriks Ešenvalds is, I believe, one of the most exciting and interesting choral composers of our time and his music is superbly served here. This is a terrific way for the choir to mark 75 years of singing.'
— MusicWeb International (John Quinn)
'I was surprised and moved by the legend The First Tears — wrapping prose in melody is not easy. So moving, magically beautiful and painful is the Inuit fable about the Crow, Whale and the Soul of the Whale. The ancient legend and the music of Ēriks Ešenvalds reaches the depths of the subconscious.'
— Mūzikas Saule Magazine (Anna Veismane)
'State Choir Latvija and conductor Māris Sirmais have long been collaborators and proponents of Ešenvalds' music (the composer was a singer in the choir for many years). This is their second CD of Ešenvalds' choir compositions (the first was 2013's At the Foot of the Sky), and, as on that CD, the choir and Sirmais prove to be peerless interpreters of the composer's works and again show that they are one of the most talented and versatile choirs performing today.'
— Latviansonline.com (Egils Kaljo)
From the dim and distant past was recorded in St John's Lutheran Church, Riga. The album is available on Amazon, iTunes, Spotify, Google Play, and Tidal.