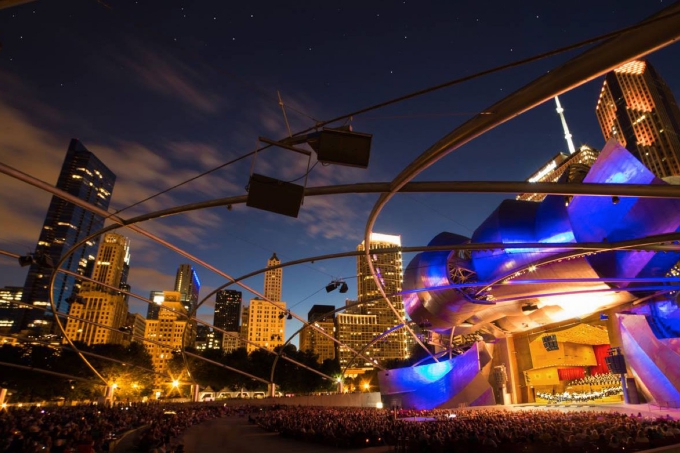 Ēriks' new work The Pleiades will be premiered during the 2018 season of the Grant Park Music Festival in Chicago. Commissioned by the festival, the work will be performed by the Grant Park Orchestra and Chorus, conductor Carlos Kalmar, and chorus director Christopher Bell at the Jay Pritzker Pavilion in Chicago's Millennium Park on both 20 and 22 June. The evening's programme honours the Leonard Bernstein centenary with his Chichester Psalms and also features Brahms' Gesang der Parzen and Messiaen's O Sacrum Convivium. On 21 June, Ēriks will take part in the panel discussion of the 2018 Chorus America Conference.
Ēriks writes about his new work: 'The Pleiades star cluster has triggered the imagination of people for centuries and gave me an excellent subject. Clearly visible to the naked eye, the Pleiades can be seen in almost every part of the world at some time during the year. Important as a practical navigational marker in ancient times, especially for sailors, the seven brightest stars have a huge significance when it comes to cultural identity. They have been described as the Seven Sisters of Greek mythology, daughters of Atlas and Pleione. They are mentioned in the Bible and revered in Hindu mythology as Kartika, the mothers of the war god Skanda. In the Hawaiian language, they are Na hiku o Makali'l, the Seven Little Eyes, and in Maori are known as Matariki and thought of as a mother and six daughters. In a Polynesian legend, the stars were created from a single star smashed by the god Tane, angry at its bright boastfulness.'
The Pleiades is just under 30 minutes long and is scored for woodwinds, horns, trumpets, trombones, tuba, timpani, percussion, harp, strings, and chorus. It combines, amongst others, Inuit and Nez Perce myths, a Pawnee song, and a Zuni tune.