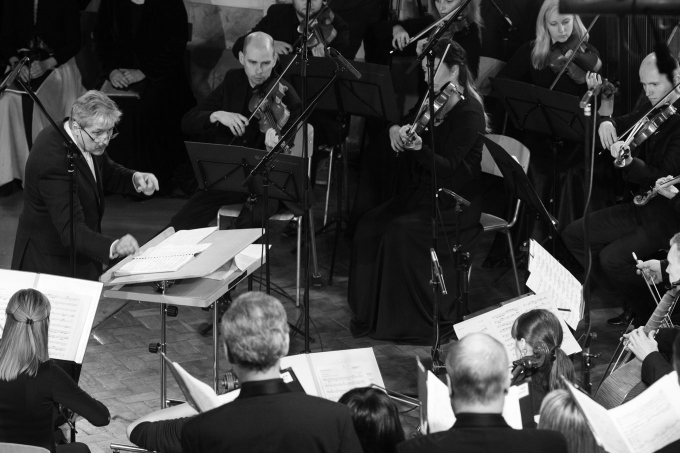 Ēriks' oratorios Passion and Resurrection and Passion according to St Luke will be performed in several countries during the Lent and Easter season.
The Honoured Academic Chapel of Ukraine Trembita, one of the oldest choir ensembles in Ukraine, and conductor Sergiy Yakobchuk will perform Passion according to St Luke at the House of Organ and Chamber Music in Lviv on 24 April. Scored for soloists, mixed choir, and chamber orchestra, Passion according to St Luke is a 30-minute work in eight movements and sets texts from the Gospel of Luke, Catholic and Byzantine church prayers, the Shema Yisrael prayer, and poetry by James Weldon Johnson (1871–1938) and Christina Rossetti (1830–1894). The work was commissioned and premiered by the Latvian Radio Choir, Sinfonietta Riga, and conductor Sigvards Kļava in 2014 and recorded on their 2016 album St Luke Passion with Ondine (Gramophone Magazine Editor's Choice).
Gramophone's Ivan Moody writes: '... St Luke Passion (2014) plunges the listener straight into the midst of the Crucifixion scene, rushing strings underlying the terrible urgency of the crowd's shouts of "Crucify him!". It's an unusual and highly effective beginning, and I can say that it is unlike any other setting of the Passion with which I am familiar.'
In the US, Passion and Resurrection will be performed on both the East and West Coast: in New York by Amor Artis Chorus and conductor Ryan James Brandau in the Basilica of St Patrick's Old Cathedral on 13 April, in Seattle by Choral Arts Northwest and Robert Bode in the Plymouth Congregational Church and Trinity Episcopal Church on 15 and 16 March and by Seattle Pro Musica and Karen P Thomas in St James Cathedral on 18 and 19 May, and in Tucson by the Saint Philip's Choirs and Chamber Orchestra in Saint Philip's in the Hills on 7 April.
Passion and Resurrection is a 30-minute work in four movements and sets texts in Latin and English from the Holy Scripture and Catholic and Byzantine church liturgies; it features a quotation from Parce mihi, Domine by Cristóbal de Morales (c 1500–1553). Scored for soloist, mixed choir, and string orchestra, it was commissioned and premiered in 2005 and first recorded in 2006 by State Choir Latvija, Liepāja Symphony Orchestra, and conductor Māris Sirmais. Passion and Resurrection was recorded by Polyphony, Britten Sinfonia, and Stephen Layton on their 2011 album of the same title on Hyperion and most recently by the Portland State Chamber Choir and Ethan Sperry on their 2017 album The Doors of Heaven on Naxos (Gramophone Editor's Choice).
Watch the world premiere of St Luke Passion
Photo: Jānis Porietis