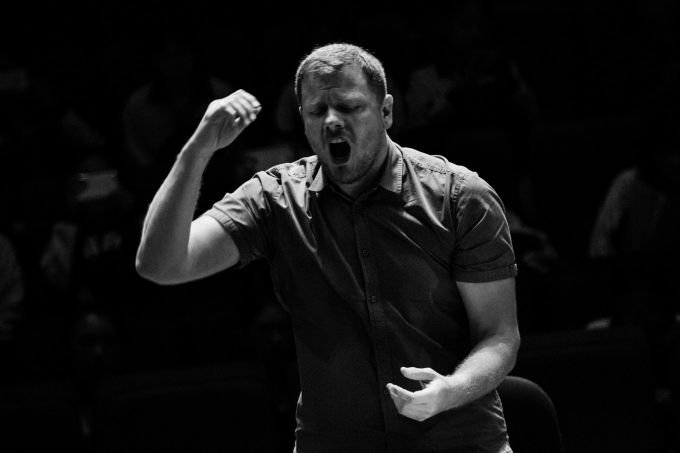 Early November, Ēriks will travel to both the East and West Coast of the US. He is to join Voce and artistic director Mark Singleton as composer-in-residence and will be present at the opening concert of the choir's 2017–18 season in Hartford, CT. In Boston, MA, Ēriks will work with the choirs under the direction of Lisa Graham at Wellesley College, and he will hear the premiere of his new work Nightfall by Labyrinth Choir and director Anita Kupriss. Concluding his trip, Ēriks will visit the Portland State Chamber Choir, Man Choir, Vox Femina and Ethan Sperry for two concerts in celebration of the recent release The Doors of Heaven on Naxos.
November will see the premiere of Nordic Light: A Composer's Diary. Directed by Renārs Vimba, this documentary film follows Ēriks on his expeditions to the Arctic circle in preparation of his large-scale Nordic Light Multimedia Symphony, which was premiered in 2015 and has been performed in the US, Canada, Germany and Latvia. The film will be screened at Riga's Splendid Palace on November 14 and 16, and in Latvia's third largest city Liepāja on November 30. The film had a pre-screening in the US earlier this year and is scheduled for Toronto, Canada, in February 2018.
At the beginning of the season, Ēriks was in Shenzhen, China, for a project which included him writing a new piece for the Shenzhen Lily Choir. He gave masterclasses alongside the choir's artistic director Manxue Hu and heard a concert of his music. Ēriks was also a judge at the Cantat International Choral Festival and Symposium 2017, held in the city of Manado in North Sulawesi, Indonesia.
Photo © Kundong Ye